There are no more items in your cart
Shipping

Free

Total

€0.00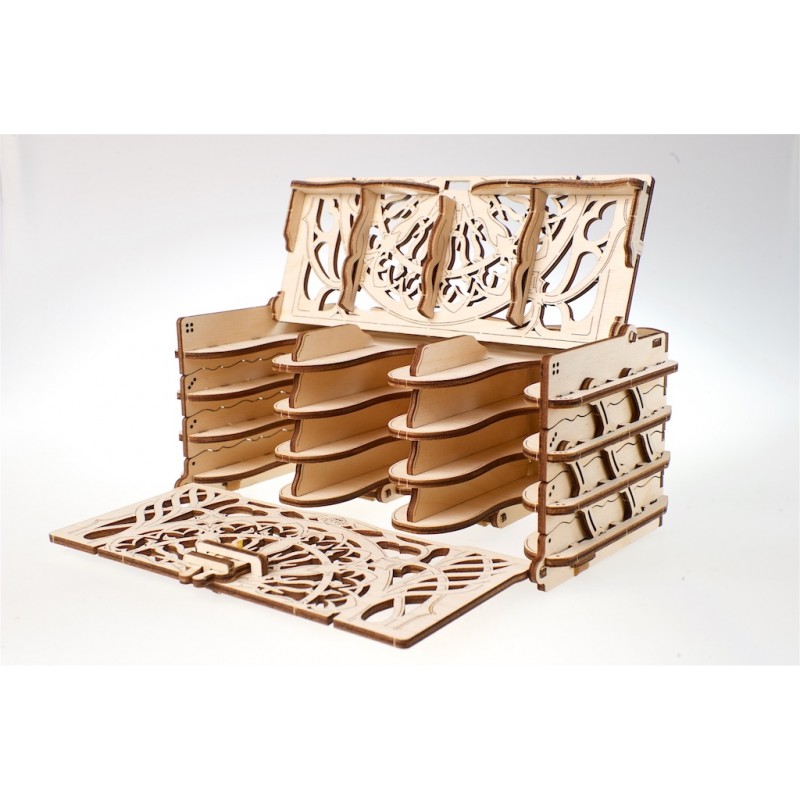  
UGEARS wood 3D card box
Difficulty: 2 (Passionate)
To assemble yourself, without the use of glue.
Dimensions: 24.5 x 23.6 x 11.2 cm
Number of coins: 77
Difficulty: 2 (Passionate)

The puzzles have a 14-page mention on the boxes. We recommend from 10 years old accompanied by an adult.
As very often with a large-scale board game that involves a lot of cards, the space available on the game table becomes a real problem. In addition, due to the lack of space, the cards mix, hindering the smooth running of the game and spoiling the pleasure of players who do not want to spend their time sorting them over and over again. The Card Box, a clever wooden box, is designed to eliminate these drawbacks.

This model allows you to improve the game enough by manipulating your cards while saving space on the game table.
The attractive wooden design of the Card Box hides an extension mechanism that ergonomics transforms it into stair shelves; allowing you to easily choose a card in any compartment of your box. Your new model contains 12 compartments with total space that can hold up to 400 63.5- 88 mm cards. The compartments are large enough to hold protected cards (sleeves).

In "extension" mode, the Box allows for four additional dwellings for up to 100 45-68 mm cards.

Between games, your Card Box will serve as a convenient and reliable storage unit: place your cards safely inside. Lock it with the latch and put it in your backpack: you're now ready to travel!

The Card Box will provide the most efficient layout of the game elements and maximum comfort for players.

The Card Box kit is made of high quality wood from sustainable sources and has everything you might need for assembly. The quality of the parts is excellent: a laser method is used to cut the parts from a plywood board that provides precise cuts. The pieces must be removed from the boards and assembled to create the complete model. Like all other Ugears models, the Card Box comes with step-by-step instructions, in color, really easy to follow (in 11 languages: Ukrainian, English, German, French, Polish, Spanish, Russian, Turkish, Italian, Chinese and Korean) and do requires no glue or special tools to be fully assembled.
To assemble yourself, without the use of glue.
Dimensions: 24.5 x 23.6 x 11.2 cm
Number of coins: 77
Assembly: about 3 hours