There are no more items in your cart
Shipping

Free

Total

€0.00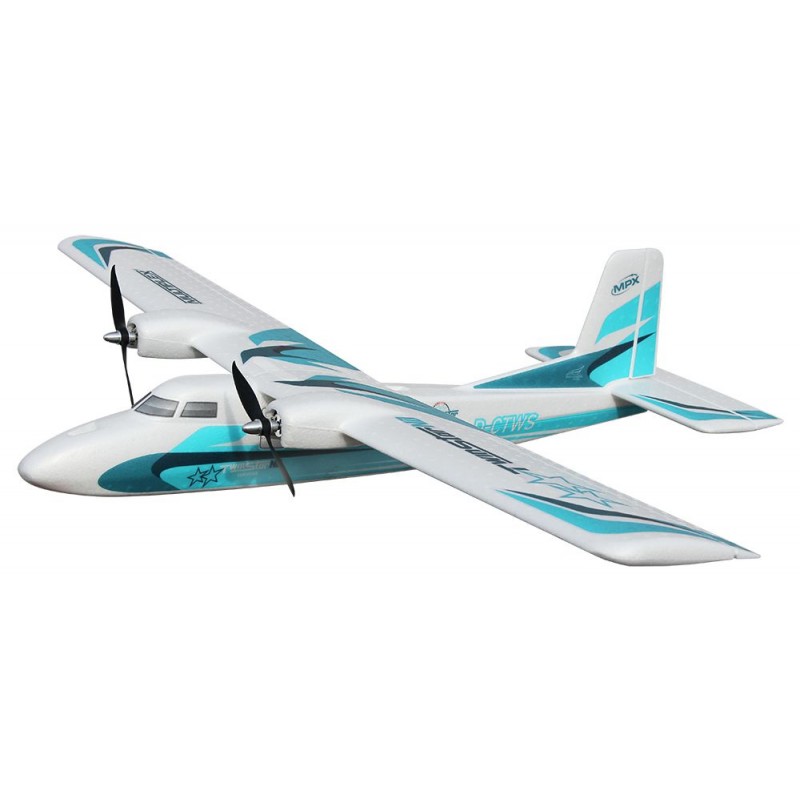  
TwinStar ND BL Kit 1, 42m multiplex
New decoration signed Mirco Pecorari (Aircraftstudiodesign®) for the timeless TwinStar multiplex!
KIT version content:
Elements of the fuselage, the canopy of the wings of the drift and the stabilizer molded into ELAPOR®. Fenders in GFK, 2 motor mounts with engine pairs in ALU.
All plastic parts, connections and other parts required for Assembly, pre-cut decoration Board and detailed notice.
Wingspan: 1420 mm
Length: 1085 mm
Weight in flight: 1350 g
RC functions: Steering, depth, ailerons, motors
Flight time: approx. 10 min (3S ~ 3200mAh)
This twin-engine with sensational flying qualities is put back to the taste of the day with a new decoration.
The Twinstar multiplex has been one of the most versatile aircraft on the market for years.
It is a great tool for learning, able to resist the mistakes of beginners.
It is also the ideal support for carrying loads such as onboard camera or FPV immersion flight equipment.
Finally, the expert pilots will be able to take advantage of the formidable qualities of the twinstar's outfielder.

It's really the right machine!
'Multiplex Twinstar NDcomes back in its fourth generation:

-in the form of a Kit (#1-00912), to be completed with the motorization set (#332619) and the servos set (#65166) (or any other suitable equipment...).
-in assembly version RR (#1-00911), ready to receive your receiver and a rechargeable battery. It integrates the controller for two brushless motors: 72237 MULTIPLEX duo brushless speed controller MULTIcont BL-30 2 in 1 (for 5-12 NiXX/2-4 LiPo, 2x30A, Dim.: 56 x 43 x 6, 73g, BEC 5V/2A, 8/16 kHz). The ' ND ' decoration boards are to be asked.
In addition, with the set of floats (# 733061), you will be invaded by a real breath of summer.
KIT version features:
•® ELAPOR construction box with high degree of finish
• Short mounting time (approx. 4 h)
• More detailed and pre-cut decoration Board
• Can be used as a FPV model
• Transport facilities thanks to removable wings
• RC functions: Steering, depth, ailerons, motors
• Available Optional with a powerful motorization set (# 33 2619)
• Available Optional with a complete servos set and extensions (# 5 166)
• a huge fun factor, especially thanks to the possibility of mounting floats Optional
Content version KIT of multiplex Twinstar ND (#1-00912) version ' Kit ' Nu (EAN: 4059818009121):
Moulded elements in ELAPOR®, fittings, accessories, Deco ' ND ', all the plastic accessories and small parts necessary for installation, decoration Board, detailed installation instructions with photos of the different stages of the Assembly.
Requires the following equipment not included:
-332619 Twinstar BL motor set
Brushless motors offer enough power, more than 1.2 kg of thrust! Thus, the TwinStar II BL, even without a train, is able to take off from a grass track!
Technical specifications:
2 x brushless motors Permax BL-O 2830-1100, 2 x Multicont controllers-BL 20, 2 propellers 8 ' X5 ' with aluminium cone, cord set
Technical data:
| | |
| --- | --- |
| wingspan: | 1420 mm |
| LG fuselage: | 1085 mm |
| Weight in flight: | 1300 g |
| Wing surface: | 43 DM ² |
| Wing load: | 35 g/DM ² |
| Number of lanes: | 5 |
| RC functions: | Direction, depth, ailerons, motors |
| Flight time: | approx. 10 min (3S ~ 3200mAh) |