There are no more items in your cart
Shipping

Free

Total

€0.00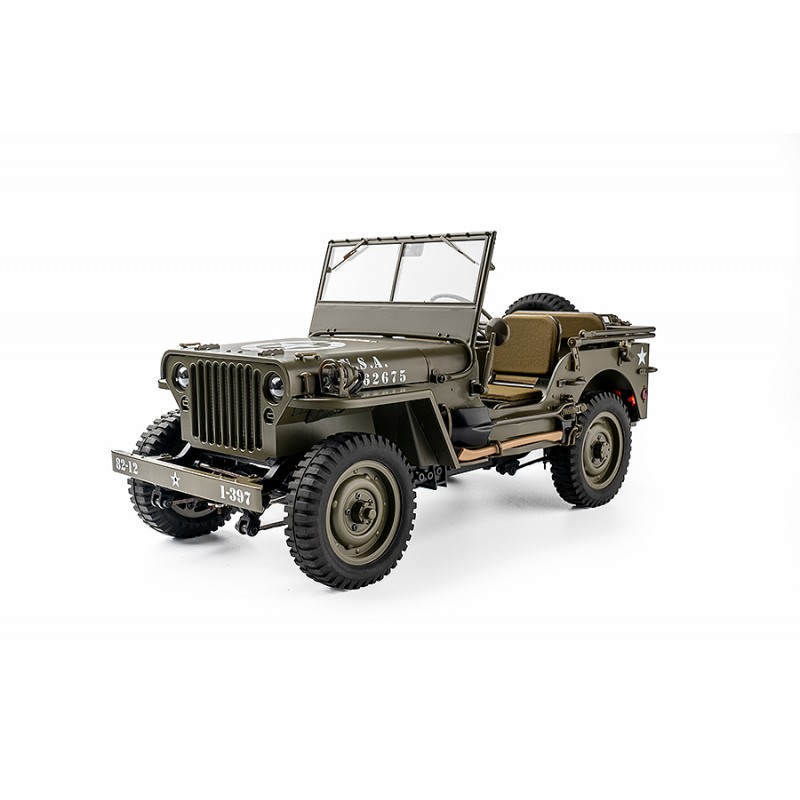  
Jeep Willys 1941 MB Scaler 1/12 RTR Roc Hobby
Jeep Willys 1941 MB Scaler 1/12 RTR Roc Hobby ROC11201
- Length: 278mm
- Width: 136mm
- Height: 140mm
- Wheelbase: 169mm
- Lipo 2S 380mAh mic JST plug
- USB charger
4 AAA batteries needed for the remote control.
When the Jeep Willys MB was first put into service in the 1940s, it wasn't the only light all-terrain vehicle on the battlefield. It wasn't the most revolutionary design and didn't have cutting-edge technology. However, this was going to start a revolution - designed to face the most extreme types of terrain, it became a reliable and versatile workhorse honored by soldiers around the world for the coming year.
No less than its big brother: 1:6 1941 MB Scaler that we created a year ago - it features a realistic molded hard body finished with a delicate topography technique including real mirrors, a detailed dashboard, rubber tires and removable accessories such as as a fuel tank, axe, shovel, hood, windshield and upper bow assembly.

However, the 1941 Willys MB 1:12 offers even more. More details - such as realistic canvas seats, a folding rear seat with opening bins and tires with tread patterns at breathtaking scale. More realistic - the Willys MB chassis features a solid ladder frame rail that reflects its full-size counterpart, multi-blade springs with shock absorbers as well as offset differentials, making this vehicle perfectly equal to the legendary historic Willys. More versatile - the Willys MB has a fantastic LED system (four turn signals, two headlights and a darkening lamp) that helps to explore the darkness of the night. In addition to the finish and scale details, its 2.4GHz ANT transmitter offers modellers, from beginners to experts, the opportunity to enjoy exciting trails with a two-speed transmission option (creeping mode and beginner mode), as well as alert the user with a low battery. Warning, forgotten alarm, protection against engine overloads and more!
Technical characteristics:
- The authentic permanent 4x4 includes a radio transmitter and receiver and a battery.
- Fine armed green bodywork.
- Realistic scale details, including canvas seats, mirrors, dashboards, leaf springs and shock absorbers, tires and metal ladder frame rails.
- Additional movable scale features and accessories like rear seat, axe, shovel, two bins, windshield, rotary steering wheel and fuel tank
- The perfect result for soldiers in 1/12 scale
- Up to seven LED lights are included for night driving.
- Optional parts (canvas, machine gun and trailer) offer an additional scale finish.
- 4 wheel drive
- Rotary steering wheel coupled to the steering servo
- Removable spare wheel
- Functional lighting (up to 7 LEDs)
- Optional canvas hood (sold separately)
- Optional machine gun (sold separately)
- optional trailer (sold separately)
- large battery compartment
- Adjustable pressure shocks
- 180cc type coal engine and integrated sealed control unit/receiver
- Built-in 3x 9g digital servos
- Lipo 2S 380mAh micro JST plug and USB charger
Length: 278mm
Width: 136mm
Height: 140mm
Wheelbase: 169mm
Necessary to ride:

- 4 AAA batteries for the remote control.